Pick&Pack Start-up Forum 2023
En el marco de la celebración del congreso de PICK&PACK, centrado en la digitalización, inteligencia artificial, la robótica, la impresión 3D y nuevos materiales más sostenibles para el packaging, así como los instrumentos que van a transformar las empresas en fábricas y almacenes más eficientes, inteligentes y productivos, se celebrará el Pick&Pack Start-up Forum 2023. Un escaparate y espacio de networking frente a una audiencia global. El PICK&PACK tendrá lugar en Madrid del 25 al 27 de abril, 2023.
Las necesidades y retos del sector de la logística, intralogística y packaging se han visto incrementados con el desarrollo de la conectividad y la transformación digital en los últimos años, lo que ha favorecido la aparición de nuevas formas de negocio, y nuevas empresas de base tecnológica que están aportando ideas innovadoras para dar solución a esos retos.
El Forum, organizado en colaboración con La Salle Technova Barcelona, se centra en la búsqueda de proyectos disruptivos que impacten en el futuro de estos sectores ya sean proyectos de diseño de packaging, ecopackaging, smart packaging, embalajes y nuevos materiales, tecnologías para maquinaria de impresión, componentes o sistemas de control, procesamiento, automatización, entre otros.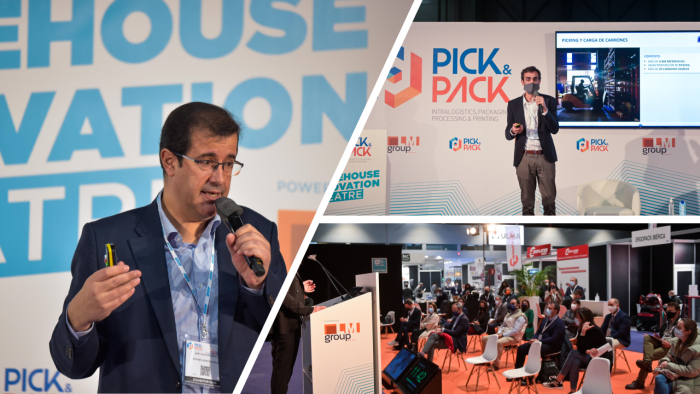 Edición anterior
Start-up ganadora:
Tech Mox: We are a tech-enabled company that makes delivery operations smooth and easy by developing specific apps designed for everyone involved in the supply chain. Our mission is to help our partners increase customer satisfaction by developing the best end-to-end tools for logistics operations.
Start-ups seleccionadas:
ADBioplastics: we design tailor-made PLA grades plus additives, regarding the final use of the material for each case (client, application and market.
Prenomics: Prenomics is a data science startup with a triple focus: business consulting specialized in data science; the definition of analytical solutions; and the development of its own technology (Intelek). For this reason, it offers a consulting model leveraged on its own software, which allows it to help organizations at a competitive price.
Thanks to the technological development model and the multidisciplinary perspective in the definition phases, Prenomics has made it possible for small and medium-sized companies to implement Business Intelligence and Machine Learning solutions that formerly only large companies had access to.
NEWE: B2B SaaS that allows e-commerce and retailers to offer their products for rent. Our solution is end-to-end. We cover everything from product rental to direct and reverse logistics and quality control.
Vitum Technologies SL: Vitum allows you to identify and trace all your assets individually. Get full traceability and documentation management. Easy, fast and efficient.
TransportComparator: First Booking for land transport companies. The only alternative to freight exchanges. Free tool, without intermediaries and with total transparency. Still not comparing?
Bumerang Takeaway SL Bumerang is the first digitalized reusable packaging solution for takeaway food and drinks, completely deposit-free.
LOGISTIKO LABS, SL. We help any company with last-mile logistics processes to be able to optimize and scale their operations, guaranteeing a differential delivery experience for their customers' thanks to a SaaS, applying technologies such as Machine learning or NPL. The great value is that our solution adapts perfectly to their distribution operations, and this is how our clients transmit it to us: rapid integration and total adaptation to their day-to-day work due to its ease of use
Opin365: is the smartest proof of delivery system connected to blockchain for e-commerce. We make last miles zero risk for sellers and buyers. OPIN365 exists to combat INR fraud in the last mile (Item Not Received) and to resolve disputes instantly. We eliminate fraudulent refunds and eliminate lost products. We have created a smart proof of delivery system connected to the blockchain.
Visionary Soft: It's a solution aimed at improving customer interaction with restaurants when consuming their products. It is designed to serve as an intelligent assistant using artificial vision to classify the products displayed for sale, it is also designed to use the concept of decentralized kitchens as the system allows you to send, manage and coordinate service orders anywhere as well as their delivery.
En colaboración con: